The original west coast bistro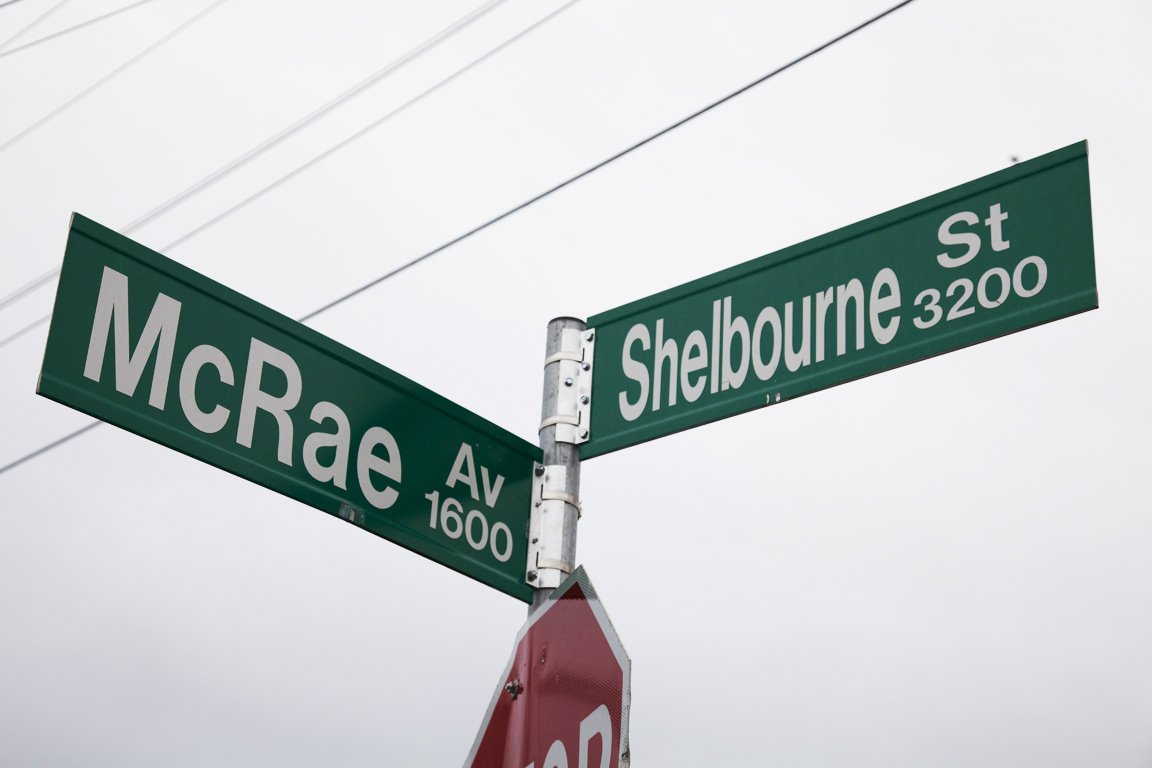 Family tradition returns to Saanich neighbourhood
New bistro seen as a gathering spot for residents and college students
Darron Kloster, Times Colonist
Published: Saturday, August 21, 2010
A family with a long history in the city's hospitality industry is turning a tired corner store property along the busy Shelbourne corridor into a smart neighbourhood bistro.
Brothers Adam and Michael Helm along with partner Cole Byers have spent months gutting and remodelling the former Tan's Market on Shelbourne Street at McRae Aveune.
They plan to open McRae's -- serving West Coast pub-style fare with local beers and wines -- sometime in the next week.
View Larger Image
From left, Cole Byers, Michael Helm and Adam Helm in front of McRae's, a soon-to-open bistro on Shelbourne Street.
"We get tons of people stopping by asking what we're doing, when we're going to open," said Adam Helm. "We think it's a great spot and something that's really needed here."
The partners say McRae's fills a void along one of the region's busiest thoroughfares, catering not only to the neighbourhoods between Hillside mall and Shelbourne Plaza, but to students at nearby Camosun College as well as the University of Victoria.
The Helm family are no strangers to the area -- or the industry. Their father, Lyndon Helm, built Maude Hunter's Pub further up Shelbourne and later Christie's Carriage House in the Jubilee neighbourhood, where both Adam and Michael cut their teeth in the business washing dishes. Their grandfather, Albert Eudoris Helm, was the founder of the enduring Helm's Inn at the gate to Beacon Hill Park.
All three businesses remain going concerns -- some would say institutions, although the family has divested its interests. Lyndon also founded Saanich Rentals, carving off some of the property to build Maude Hunter's in 1982.
The Helms were also raised just up the street on the slope of Mount Tolmie, where the family has lived for 39 years.
"I am very proud of what the boys are doing," said Lyndon. "This is their project, their idea and I think it's a good one. They worked their up at Christie's, went and did their own things for a while and have come back full circle to do what they really know and love."
The move to food and beverage was a natural shift for the brothers. Adam, 32, and Michael, 27, had operated a u-brew business on Interurban, taking Brew Works out of receivership in 2007 and turning a profit within a few months. They sold it recently to qualify for a food primary liquor licence at McRae's, which is expected to be approved in the coming days.
They've had their eye on the property for years, and grabbed the lease when a plant nursery and cafe ended a brief stint at the site late last year.
Byers, a towering former professional hockey player and friend of the Helms, joined them as a partner after surveying the site.
"I came over here one night about midnight and just walked around and thought 'this is perfect,'" said Byers, 27, a Nipawin, Sask., native who played with the Notre Dame Hounds and Mooose Jaw Warriors before embarking on a six-year pro career -- mostly in Europe. He retired after a season with the Victoria Salmon Kings and is the cousin of long-time Boston Bruins tough guy Lyndon Byers and has a younger brother, Dane, in the New York Rangers organization.
Phone
(250) 590-6944
Location
1652 McRae Ave.
Victoria BC
V8P 1H3
Hours
Sun-Thurs 10am – 'til close
Fri-Sat 10am – midnight
FEATURES
APPETIZER
Pear & Gorgonzola Flatbread $14
Wine poached pear, walnuts, red onions, balsamic reduction
Chicken & Waffles $16
2 pieces of buttermilk fried chicken on top of two Belgian waffles,
maple butter and bourbon & maple sauce
Smoked Salmon Penne $15
Cherry tomatoes, dill tossed in a lemon cream sauce and Parmesan cheese
breakfast (served all day)
Traditional Breakfast - 11.5
two eggs any style, applewood smoked bacon, local breakfast sausage or ham, hash browns, and your choice of toast: white, multi-grain, sour-dough, or marble-rye.
Breakfast Sandwich - 13
your choice of chorizo sausage, bacon or veggies tossed with pico de gallo, pepper,s shredded cheese and two scrambled eggs. served in a warm roma-tomato tortilla with hash browns.
Breakfast Burrito - 12
your choice of chorizo sausage, bacon or veggies tossed in pico de gallo, peppers, three-cheese blend and two scrambled eggs. Served in a warm roma-tomato tortilla with hash-browns.
Chorizo Hash - 13
chorizo, bacon, caramelized onion, goat cheese, fresh tomato, green onion and two scrambled eggs tossed in hash browns.
bennys
served until 2PM Sat, Sun and Holidays
House Benny - 12
poached eggs with ham, bacon or fresh tomato on a toasted English muffin and dressed with hollandaise. Served with hash browns.
Shelbourne Benny - 13
poached eggs with caramelized onion, guacamole and bacon on a toasted english muffin dressed with hollandaise and Franks hot-sauce. Served with hash browns.
sandwiches and wraps
includes your choice of fries, wedge fries, soup, salad, chips & salsa, or onion rings. upgrade to mac&cheese, caesar or greek salad or yam fries $2. add a second side for $3.
Big Boy Burger - 15
ground beef chuck 6 oz patty, cheddar cheese, tomato, lettuce, pickle, and red onion on a toasted sour-dough kaiser with chipotle aioli.
Sub GF bun - 1
Add bacon - 2.5
Add mushroom - 2
Aussie style - 2.5
Po' Boy Sandwich - 15
panko crusted prawns tossed in a cajun remoulade sauce, lettuce, red onion, cabbage claw on a portuguese bun
Salmon Burger - 16
wild sockeye fillet, lemon & basil aioli, lettuce, tomato, onion on a toasted sourdough kaiser
Classic Turkey Club - 13
roast turkey breast, bacon, red onion, tomato, lettuce, honey dijon and lemon-garlic aioli served in wrap, or served classic triple decker style. Try it in a wrap.
Chicken Fig Club - 17
grilled chicken breast tossed in house house balsamic glaze on a toasted portuguese bun with dried figs, bacon, goat cheese, wild arugula, red onion, tomato and mayonnaise.
Beef Dip - 15
thinly sliced roast beef, swiss cheese, onion, french baguette, horseradish aioli served with house au jus.
Pulled Pork Sandwich - 12
slow braised memphis rub, served with chipotle bbq sauce and sweet and spicy coleslaw on a portuguese bun.
Curry Falafel Wrap - 13
curry chickpea falafel in a spinach tortilla with coconut-curry aioli, goat cheese, red pepper, zucchini and spring mix.
Chicken Caesar Wrap - 13
chicken, bacon, parmesan, romaine lettuce and caesar dressing in a grilled spinach tortilla. Try buffalo or cajun
$

6 /

$

3
Bowl/Cup
fresh soup made daily, ask server for details
McRaes Tacos - 12
choice of tempura battered cod or pulled pork on soft corn tortilla shells with sweet and spicy coleslaw, pico de gallo, chipotle aioli and cilantro. Served with a lime.
add small guacamole - 2.5
Tuna Poke & Wonton crisps - 14
ahi tuna, cucumber, red onions, carrots, seaweed, sesame seeds, in a hoisin lime sauce, served with wonton crisps
Chicken Tenders - 15
house made buttermilk marinated tenders served with a 3 mustard and honey sauce with your choice of side
Artichoke & 3 Cheese Fondue - 14
artichoke hearts, spinach, mozzarella, edam cheese, grilled focaccia bread, corn chips
Nachos - 15
crispy tortilla chips, shredded cheese, jalapeños, peppers, tomatoes and black olives. Served with sour cream and salsa.
Add roasted chicken, taco beef or BBQ pulled pork - 6
Large guacamole - 3.5
Tuscan Flatbread - 14
oven roasted napoli flatbread, roasted chicken, cherry tomato, spinach goat cheese, balsamic reduction
Crispy Brussel Sprouts - 12
cranberries, bacon, house spices, balsamic reduction.
Onion Ring Tower - 10
crispy on the outside, tender on the inside, served with in house Hahn-tastic sauce aioli.
Wings - 14
Choose from
Chipotle BBQ
Franks, Hot Sauce
Salt & Pepper
Sweet Thai Chili
Blue Moon
Lemon Pepper
Cajun Five-Alarm
McRae's Memphis
Poutine - 10
french fries and cheese curds smothered in our house gravy.
Add roasted chicken, taco beef or BBQ pulled pork - 6
McRae's Seasonal Salad - 12
house spring mix, carrots, BC grown apples, dates, red onion, roasted almonds, whip balsamic vinaigrette.
Caesar Salad - 10
crisp romaine lettuce tossed in caesar dressing with parmesan, garlic croutons, and bacon bits.
Quinoa Salad - 14
fresh greens, arugula, feta cheese, pumpkin seeds, cranberries, cucumbers, red peppers, zucchini honey lemon vinaigrette.
Taco Salad - 13
cajun roasted chicken breast, black beans, corn, peppers, tomato, red onion, romaine hearts, guacamole crispy flour tortilla, chipotle crema.
Grilled or Cajun Chicken Breast - 6
Seared or Blackened Cod - 6
Steak Sandwich - 18
8 oz hand carved Canadian sirloin served on fresh focaccia with whipped peppercorn butter and your choice of two sides.
Add sauteed mushrooms 2
Add sauteed onions 2
Fish & Chips - 12/17
one or two piece smoked paprika beer-battered cod fillets served with fries, sweet &s spicy coleslaw, and cajun remoulade on the side.
Thai Noodle Bowl - 12
rice noodles, peppers, onion, bean sprouts, carrots, cashews and cilantro tossed in ginger soy sauce
Add chicken 5
Add beef 5
Add prawns 6
Fajita - 12
spiced mixed peppers, onions, black beans, flour tortilla served with sour cream and salsa
Add chicken 5
Add beef 5
Add prawns 6
Baked Lasagne - 13
lasagne noodles, meat sauce, marinara, spinach, cottage cheese and parmesan, topped with mozzarella. Made from scratch, baked to a golden brown and served with garlic toast.
Seafood Linguini - 17
prawns, mussels, mixed peppers, tossed in a spicy cream sauce
Chorizo & Perogies - 14
potato-cheddar perogies, tossed in cajun spice, caramelized onions, bacon and grilled chorizo. Topped with bacon, sour cream and green onions.
$

7 /

$

19 /

$

32
White Bear Riesling
$

8 /

$

23 /

$

34
Matua Sauvignon Blanc
$

7 /

$

21 /

$

32
Jacobs Creek Pinot Grigio
$

8 /

$

23 /

$

34
Mission Hill 5 Vin Pinot Blanc
$

8 /

$

23 /

$

34
Mission Hilll Estate Chardonnay
$

6
Montelvini Cabernet Merlot
$

7 /

$

21 /

$

32
Jacobs Creek Shiraz
$

8 /

$

21 /

$

34
Dona Paula Malbec
$

6 /

$

17 /

$

23
Castillo de Monseran Grenache
$

9 /

$

26 /

$

36
Beringer Cab Sauv
$

8 /

$

23 /

$

34
Mission Hill Cab Merlot
$

6
Steamworks Flagship IPA
Rotating Taps
ask your server for details
Monday Wing Night
Half priced wings
Tuesday Burger and a Beer Night - 15
Wednesday Taco Night
$2.50 tacos
Live Music Thursdays
All Red Truck Pints and Tall Cans - 5
Fridays 5 bucks off bottles of wine
Saturdays Breakfast Specials
Saturdays Mimosas and Caesars - 5